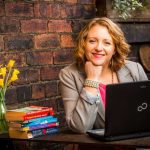 Let someone else pick the next book you read – you'll thank me
September 6, 2023
AI (Artificial Intelligence) has become increasingly popular in the marketing and communication industry as technology advances. It's been received both positively and negatively across the globe. However you perceive it, AI isn't going anywhere anytime soon, so we've got to learn to live and work along side it.
While it can improve efficiency there are still many errors in AI, and constantly needs oversight by a human. There are also a lot of questions surrounding its reliability. A recent BBC news story shares how Google has advised people should use its search engine to check whether the information provided by its chatbot, Bard, is actually accurate.
Mark Ritson in the marketing week blog implies that AI is a fad and doesn't have longevity. "In most cases, the big global brands are experimenting with AI for the same reasons they experimented with the techno porn pinup of 2021 – NFTs. Ageing CMOs don't want to look out of touch." Which is an interesting perspective – AI might not take over the world and all the creative jobs, but it will be something we work with side by side. Even if it's detrimental to people's business' they'll still implement it with no real data suggesting that AI is more effective in business over people.
There are positives and negatives to AI, and this blog will talk about where Wordsmiths Unlimited and Award Writers stand when it comes to using AI.
What can AI do for copywriting and communication?
There are many AI tools available, the most popular one being ChatGPT, and when trying these out we found that whilst most of the content was relevant, the tone, the flow and the grammar were incredibly sub-par. Now, not all of us want to be editors, a lot of our writers want to… write. Using these platforms felt more like a task than a creative process.
Whilst there are some good tools to use in terms of helping simplify and grammar check your work, such as readability apps, Hemingway app and readability analyser, we would never rely on AI software to create the body of work. You shouldn't think that just because everyone is using it, you should use it too.
AI won't be able to create that tone of voice which is so important to your brand, and it will not be able to give you the high level of customer service a human can provide. And if it's only able to generate content from information that already exists, AI can't write you something novel, original and entirely your own. Our clients want to be known for their expertise and opinions, not just for regurgitating other people's.
How we use AI
We believe that AI should be embraced, is something that can help us enhance the creative process and can sometimes help us to solve clients' challenges faster. However, it does not have all the answers, and we will not rely on it for our work. We've been successful without the use of artificial intelligence, and we only plan to use it to help our processes, not our writing.
It's place amongst our team of writers, if they wish to use it, will be to help their research process. We will not force our writers to use any generative software, but if they chose to, it will be to support not to create. If/when this changes, we will inform clients.
What are the positives?
The positives of AI in this industry are that it can help speed up the research process for writers. Saving time, energy, and money. However, does cheap mean good value? 
AI copy is SEO-friendly – but so are our writers.
AI is translation friendly, meaning it can translate into multiple languages without local terms and phrases; making it simple and easy to read.
What are the negatives?
While many AI systems pose minimal risk, they need to be assessed before being used. Because of inbuilt bias in the data, they are trained on, some generative artificial intelligence systems are generating racist, sexist, and offensive content, and publishing content from copyrighted data. This is why we need to be so careful when using this type of software. Even when conducting research and generating headlines.
While AI copy is generally grammatically correct and well-constructed, it lacks a genuine emotional connection. Human writers can empathise with their target audience, instinctively understanding which emotional triggers to employ.
AI also cannot be trusted (yet) to reliably write about complex issues like culture and ethics.
AI is still not regulated. The EU AI Act will be the first regulation on artificial intelligence. The AI Act is expected to become a regulation in early 2024 and to come into application in 2027, with a transition period of two or three years. The British Standards Institution will have to meet the needs of customers who will be regulated against the EU AI Act.
There are discussions around AI's carbon footprint, and how detrimental it could be environmentally. There is much research to be done on this, but before we think AI can help save the planet, we do need to think about its carbon footprint. 
How will this affect you as a client?
The way we use AI for research purposes will mean we're able to help you with your challenges, with more speed and efficiency. You'll still have a human hand guiding you through the process and you can be certain that anything we write for you is genuinely original.
Wordsmiths' Golden Rules:
AI will complement our team's skill sets
AI is not a replacement for creative skill
AI will not be used to plagiarise
Disclaimer: No AI tool was used when writing this blog – because we're writers!