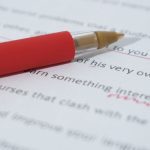 7 ways to improve your proofreading
May 30, 2023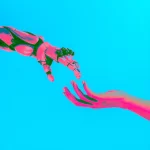 AI in copywriting and communication: how, why, and when we're using artificial intelligence.
October 19, 2023
A generation ago, after a lockdown (don't know which one, they are all merged into one in my mind) I went to visit my friend and fellow Wordsmith, Catherine. One of the highlights of that visit was walking into her local Waterstones and smelling the books. 
I'm not joking. We donned our masks and excitedly skipped into Waterstones just to be able to inhale that amazing scent. Giddy on freedom, and fairly predictably, we both left with armfuls of books. 
But despite reading a fair amount, I had a niggling feeling that I was being seduced by the colourful covers and buy one get one half price tables, rather than being selective and considered about my To Be Read (TBR) list.  
So I decided to fix the problem. And the solution came by way of starting a book club in my village and handing over the choice of at least one book a month to the other group members. Along with a friend, Hayley, in December 2021 we decided to set up a book club at our local pub (where Hayley is also, usefully, a manager). 
Think about it. What better way to diversify your reading material and push you out of your comfort zone than to let someone else pick what you need to read?  
So armed with Hayley's suggestion for the first book – The Seven Husbands of Evelyn Hugo – we published a few social media posts suggesting people read the book and turn up on the first Wednesday in January. I benefitted from a quiet week away in Beadnell over the Christmas holidays where I snuggled up and devoured the book. If you haven't read it, you should add it to your list.  
The idea went down a storm and we now have a merry bunch of people – from their 20s to their 70s and including our local vicar – who come along to geek-out about books once a month.  
We've read everything from the classics (Persuasion was not for me, despite being one of Hayley's all-time favourites, but I did enjoy Agatha Christie) through thrillers to fantasy (not of the Sixty Shades variety, thank you!).  
Hearing other people's opinions and especially people not otherwise in my social or professional circle, thinking more deeply about what I'm reading, and just generally having a reason to read more books has been a really enriching thing.  
I've read books from genres I would never have chosen, and rediscovered my love of variety, increasing the diversity of the books I'm reading. (My mum used to tell me off for having a stack of books by my bed, telling me I could just keep the one I was reading. She still recounts her shock when I maintained I was reading them all, concurrently. It's a habit I haven't kicked.) 
Given that people pay me and the Wordsmiths team for our words, reading is an incredibly important thing. Our team WhatsApp is often filled with people's latest book stack, and you'll always be able to get a recommendation if you're stuck for something to read.  
As Stephen King said: "If you don't have time to read, you don't have the time (or the tools) to write. Simple as that."