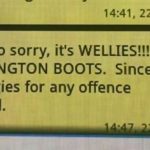 Are you word blind?
April 14, 2016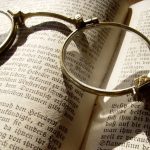 It's not all about you (sorry, not sorry!)
May 16, 2016
It was on one of our occasional shopping trips when I heard my daughter giggle and felt the tug on my arm as she dragged me across the shop.
"Look Mum!" she exclaimed, a smirk on her face as she pointed towards a rack of men's shoes. And that's when I saw it. A sign so ridiculously concocted that it made an eight year-old giggle.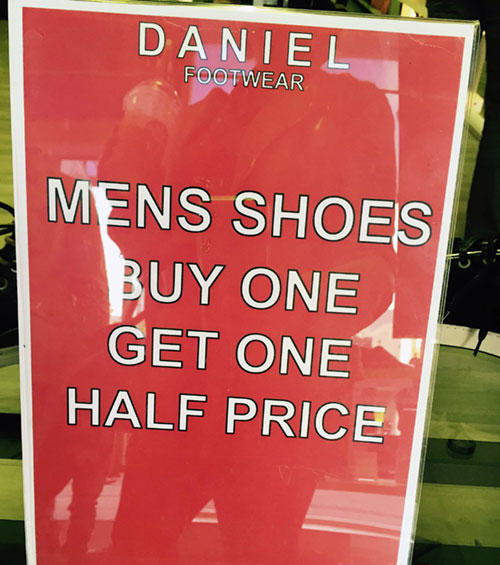 Now I'm pretty certain the shop wasn't intending on targeting one-footed men, but that's what the sign clearly indicated. One word would have solved the entire problem. (And don't get me started on the omission of the apostrophe, I'm saving that for another blog…)
That is just one example in a long line of unintentionally comedic signs that we must all see every day. I know that I'm somewhat tuned to them, because of the nature of my trade, but it really isn't just me, right?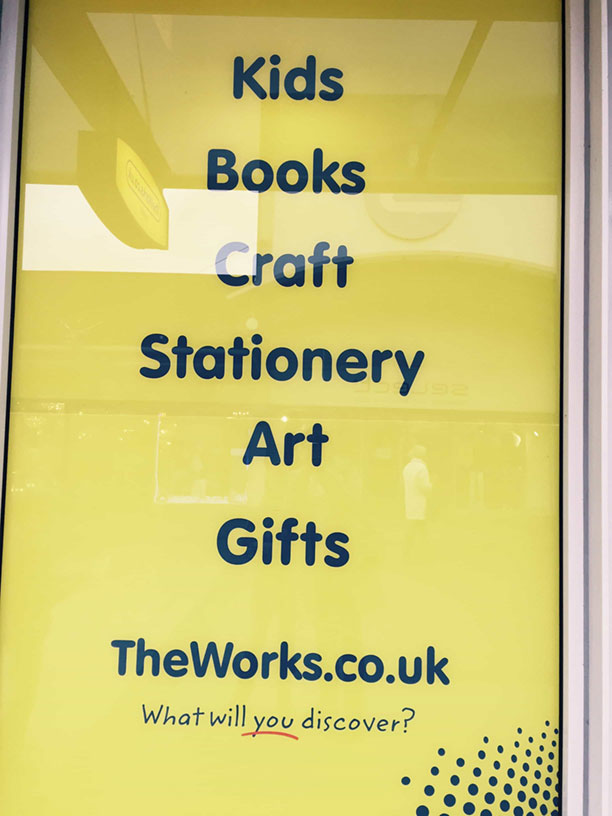 My personal favourite is a shop which sells children alongside books and craft items. I have stopped short of going in and enquiring whether I can have a refund for the two I own even though I don't have a receipt, but I've been sorely tempted.
While driving last year I saw a sign on the back of a large lorry which said "Caution, twin axle steering". It was a piece of information that left me totally confused about what kind of caution I should exercise. Exactly what does twin axle steering do to a lorry that I need to take account of with my driving? I chose to hang back until we went our separate ways, but have wondered ever since what else I need to be aware of. If you know, please do put me out of my misery.
So how do you avoid these embarrassing mistakes?
If you're putting together any written material it's worth testing it on a few people – and specifically those outside of your team or business who don't have the same level of knowledge. I bet if the lorry company had asked a guy in accounts about their sign he'd have made the same points I have.
Here's another example of when testing the sign on a few people might have resulted in a clearer message:
I reckon this sign is a result of someone urging people to be less negative with their signage. It's nicer to be encouraged to do something, rather than told not to do something. That said, I'm pretty sure their intention was not to make people wee on the floor…
Spruce up your signage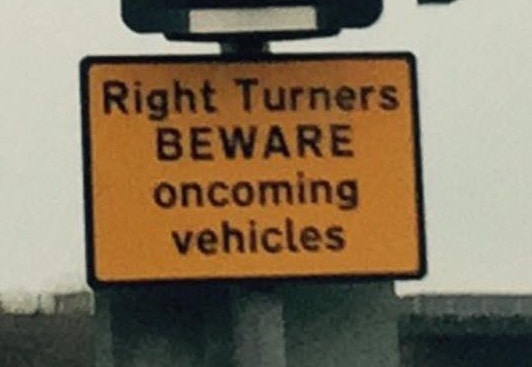 Specific things to watch when putting together signage are stray or missing apostrophes and appropriate use of capital letters, which can change the whole meaning of a sign. If you're struggling or just want an objective view before you print and display hundreds of signs, we know a bunch of people who can help with that. Check them out here.
I'll leave you with another favourite example of mine. A whole sign directed solely at my family and I (and in a rather strident tone too). I have no idea why they're choosing to comment on my driving, but they obviously felt the need…